The BRIO #33730 Roller Coaster set was recently released in Europe.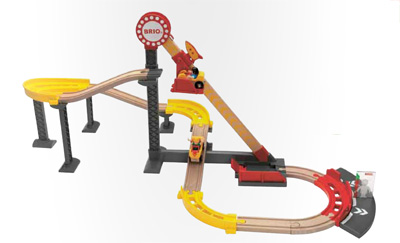 Photo taken from the 2014 BRIO retail catalog
In case that picture isn't enough, BRIO also has a short video showing it in action. This one is a real beauty, and for those fortunate enough to have the vintage Amusement Park and Merry-go-round sets it should be a wonderful supplement. You can build your very own BRIO theme park!
Only time will tell if this gem will be released in the U.S. Unfortunately, not all of the 2014 BRIO products have made it to this side of the Atlantic. If you can find a retailer that will ship internationally, this one looks worth paying for overseas delivery.