BRIO's battery engines, especially those that run on a single battery and have only two drive wheels, are not very good at climbing hills. A single engine on its own can probably manage to climb a ramp track (type N or N1), but attach a load to one of these engines and it will start to struggle. As the video below shows, attaching multiple cars to an engine all but guarantees that it will bind up on the ascent.
Notice that even the 4WD Rechargeable Engine struggles here and in fact does worse than the Freight Battery Engine. What happens is the flexible wheel base for this engine allows for two of the drive wheels to separate from the track on the ascent. Because the engine is much heavier than the standard battery engines the loss of two drive wheels stops it in its tracks. The Freight Battery Engine is actually a nice little performer, but with three loads it needs a boost to clear the hill.
So what do you do if you want to run these smaller battery engines in a layout that makes use of bridges or other multi-level track and accessories? The answer is to use the #33354 Graded Supports. As shown in this video, the gentler slope makes climbing hills a much easier task.
Unfortuantely, BRIO retired the graded supports back in 1998 so you must either find them used or opt for 3rd party equivalents such as the Jesse's Toolbox Graduated Riser set. I like BRIO's risers because they are all one-step risers, so you have significant flexibility in how you use them. You can also use the graded supports that were made for the Thomas Wooden Railway system, though be aware that you cannot mix Thomas and BRIO risers in the same stack as they have different widths. The Thomas risers were also retired several years ago, but this does provide you with more options on the used market.
Graded supports do require more space than a single ramp track, however. But, you don't have to ascend in one-step increments and I've found that two-step increments along a piece of A track is a reasonable incline and that's what I use in the video above. The standard BRIO riser is equal to six graded risers.
Note that I offset the riser at the top of the hill to place it under the peg connector rather than under the joint.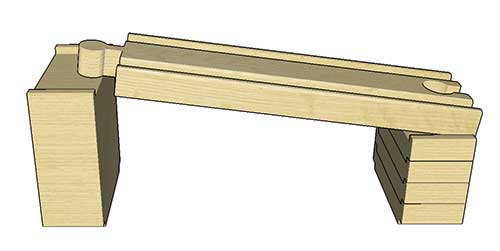 This prevents the peg from sticking up significantly above the track level and accidentally tripping the autostop switch on the engines.