I picked up some more cardstock in a variety of colors and patterns, some of which are shown below.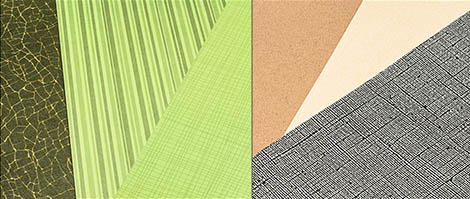 I'm fiddling with different ideas for representing land and ground cover in layouts. The light green stripe and grid patterns are possibilities for farm land, and the dark green with its irregular pattern might work there as well. I have some lighter, solid greens that I am considering in small patches to make parks, or to use for the ground around lakes and ponds. The solid browns and tans could be used to represent dirt, perhaps as shorelines or in industrial areas.
The black and white textured paper is sort of a wildcard in that I don't quite know what I want to do with it, but envision it as a way of representing gravel as-is, or sanded lightly (the paper is designed for that) to become a faded blacktop.