Up until 2006, BRIO's battery engines were all designed to run on a standard, replaceable AA battery. Once the battery died, you tossed it out and put in a new one, or if you were properly energy conscious you used rechargeable batteries and kept a stash of NiCds or NiMHs and a charger on hand. With the introduction of the 4WD Engine #33247 and the 8WD Engine #33249 BRIO offered an alternative approach to battery engines: a rechargeable battery pack and a charger were bundled with the engine, eliminating the need to replace batteries at all. When the engine's battery died, you simply plugged the charger into the charging port and let it charge over night. Additional battery packs could be purchased and either charged for use as spares, or swapped in to replace the original battery pack when it reached the end of its life.
But what, exactly, is inside the rechargeable engines' battery packs? Each engine has a custom-designed plastic pack that is completely sealed save for the charging port. To definitively answer the question of what is in there, you'd need to break open the pack. That's something I may do in the future when I get bored, but for now I can make some reasonable guesses based on the specs that are on the label.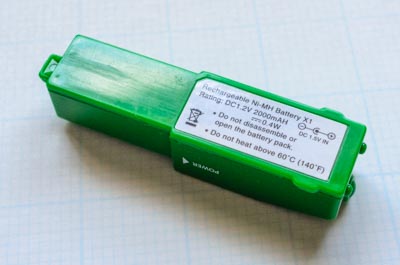 This pack is from the 8WD Engine #33249. The first thing to note is that the battery pack is a NiMH (nickel–metal hydride) battery rated at 1.2 V and 2000 maH. This was a very typical power rating for a high capacity AA NiMH battery in 2006. It stands to reason that this battery pack is really just a AA size NiMH battery with a charging port.
Charging NiMH batteries is actually quite complex due to their chemistry, and the small size of this battery pack suggests that it does not contain a sophisticated NiMH battery charging circuit. Hence, it's reasonable to assume that the charger just uses the trickle-charge method, which is to send 0.05C to 0.1C into the battery. The trickle-charge method is a simple but very safe method of charging a NiMH cell because it guarantees that the battery will not heat up significantly, and also offers some protection against overcharge since most modern NiMH cells (including those made in 2006) can absorb a charge at this rate when full without incurring significant harm. The down side is that trickle-charging is very slow: at 0.05C a full charge takes 20 hours and at 0.1C it takes 10 hours. The power adapters provided with the BRIO engines are rated at 1.5V and 200 mA, so they provide a trickle-charge at 0.1C and the manuals state that a battery fully charges in about 8 hours (when the engine stops working, the battery is not completely drained, just low enough that the voltage drops off to the point where it can't provide sufficient power).
This relatively simple charging method is not good for long-term battery life, though, especially if the battery is ever charged without being fully discharged. While it is possible that the power adapter/charger or the battery pack contains a shutoff timer circuit as an additional protection against overcharge, such a timer would only be of benefit to a fully discharged battery. Parents (or children) who got into the bad habit of continually charging their engine when not in use would soon find themselves with a dead battery that would no longer hold a charge. This probably explains the number of negative reviews at sites like Amazon which complain about the battery not lasting very long on a full charge or wearing out after frequent use.
A worn out battery pack could probably be revived by being hooked up to an intelligent charger and run through a refresh or break-in cycle. The challenge here would be connecting the pack to a charger designed for standard AA or AAA batteries. (Edited to add: You want to hook up directly to the battery's contacts on top of the pack, not go in through the charging port which might have a current limiter and other circuitry in between it and the cell.)
A completely dead battery pack could likely be "repaired" by just opening it up and replacing the battery with an off-the-shelf AA NiMH, though that might require some jury-rigging of the insides since sealed battery packs often times have leads soldered directly to the battery terminals. The upside to doing this, though, is that you could take advantage of newer, higher-capacity NiMH batteries that also hold their charge when not in use, and do so in a manner that lets you pull out the battery for recharging in an intelligent charger with independent charge circuits (so that you aren't forced to charge batteries in pairs).
Edit: 4/15/16
Reader Andrew J. opened up his pack and posted a photo online. Thank you for sharing, Andrew! As I suspected, the battery pack is just a 2000mAh NiMH battery with some circuitry (perhaps a simple voltage regulator).