BRIO collector and enthusiast Tyme let me see a copy of an old flyer from 1997 that was sent out to BRIO retailers. This was something of a pre-announcement of upcoming BRIO products in the late 1997 and early1998 timeframe. On the cover of this flyer, which bears the name "Toy Fair 1997", is a photo of a prototype train in orange: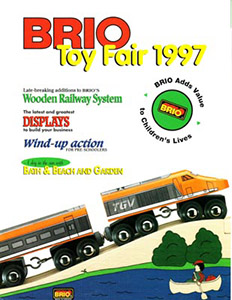 Inside the booklet is a larger photo with more information, indicating that the train was modeled after the TGV in France (in French, the Train à Grande Vitesse, which translates as "high speed train"), specifically the TGV Sud-Est in its original orange livery. According to Tyme, who had a close relationship with his local BRIO retailer, BRIO was not able to secure the rights from France to sell the train so it never made it to market.

As you can see in the photo (click to enlarge), this prototype is just a mockup. The body is orange, but the graphics are printed on paper which are glued onto the train body. This is probably fairly common in the early stages of train design since, once you have the body color decided, changing the graphics is easy if you are just printing them on paper as opposed to commiting them permanently in ink on the train itself.
Also note the early prototype of the redesigned Shinkansen as well, which bears the name Shinkansen Tokaido. The final product name for this train would be Shinkansen Nozomi when it was finally released in early 1998. In Japan, Tokaido is the name of one of the high-speed rail lines in operation while Nozomi is the name of the fastest service offering on this line (the limited-stop service). So Shinkansens Nozomi is merely a more specific name for the same train. The train itself is modeled after the 300 series which was in operation from 1992 through 2012.
Also note the suggested pricing in US Dollars. BRIO has never been cheap. Accounting for inflation, $43 in 1998 is equivalent to about $62 today.