BRIO released a lot of terriffic products over the past couple of years, but their U.S. distributer Schylling has not brought all of them into the U.S. market. Because BRIO had both a spring and fall line of Wooden Railway accessories and Schylling only updates their product lineup annually, it is possible that some of the 2014 products will come to the States in 2015, but there are no guarantees and there are still a number of products that were released in previous years that just weren't picked up by Schylling and may never be.
Some of my favorites are listed below with links to searches on the U.S. sites for Amazon and eBay. Always check shipping charges, especially when dealing with eBay sellers, as some services and the Global Shipping Program especially can be very expensive.

33256 Cargo Engine
Buy it: Amazon |
Released back in 2010, you can get this engine in the U.S. with a grey body and orange trim as part of the #33259 Freight Cargo Train set, but if you want it in the more colorful, and arguably more attractive, blue and red then you have to buy it solo. As you might guess, I prefer this variation.


33562 Tanker Wagon
Buy it: Amazon |
This tanker wagon from 2011 is probably my favorite of the rolling sock in the modern BRIO product line. The wheel base and the load are solid wood, and in the classic BRIO style the load is removeable. It's never been available in the U.S. in any form.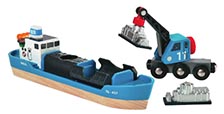 33534 Container & Crane Wagon
Buy it: Amazon |
BRIO loves variations. Schylling? Not so much. You can get the container ship in red trim as part of the #33061 Cargo Harbor Set but the Container & Crane Wagon set gives it to you in blue and includes a nifty crane wagon that you can't get elsewhere. The Cargo Harbor set is probably the better bargain now that pricing has come down (it was first relesed back in 2011), but if you want blue this is how you get it. This set was released in 2013.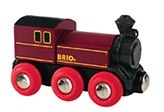 33616 Steam Engine
Buy it: Amazon |
Simple styling and minimal graphics give this steam engine a classic, elegant appearance. BRIO also manufactured a special 2013 Limited Edition variant in mauve that included a coal tender, sold as #33260, but I prefer this version.


33405 Horse Trailer
Buy it: Amazon |
A great addition to BRIO's farm themes which date back to the early 1980's and saw a major update and release in 2012. Though there is more plastic than wood here, the detailing and graphics are very nice.

33306 Airplane Boarding Set
Buy it:
Another example of variations not being picked up by Schylling, there is not really anything in this set from 2014 that can't be found in the #33301 Airport Monorail Set except for the color of the plane. That, and the Airport Monorail set is larger and more expensive even when you factor in international shipping (until recently, it was significantly more expensive). It is arguably the better value, but if like me you don't want those extras or you just want the plane in blue, then #33306 is the way to go. Unfortuantely, it is also a fairly uncommon set and I've not been able to find it on the Amazon market so only an eBay search link is given above.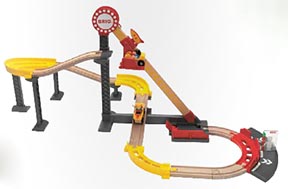 33730 Roller Coaster Set
Buy it: Amazon |
New in the fall of 2014, this set reminds me of the vintage #33220 Amusement Park and is kind of a throwback to when BRIO was adventurous with accessories in the name of world building. The coaster set is a fully functioning roller coaster with a manually operated elevator to raise the cars to the top of the track. The attention to detail is very nice: the special cars have safety bars, the riders have wrist bands and there's even a sign indicating the minimum safe height for the ride. The set itself might be a little frustrating for younger children because, like all BRIO track, the joints are loose and parts can easily slide around and become misaligned, but with that caveat I think this one is a winner. Combined with the vintage Amusment Park and Merry-Go-Round sets you can make a whole BRIO Theme Park.