Curious what the axle and wheel assembly looks like on the modern, rimmed wheel design? Here it is.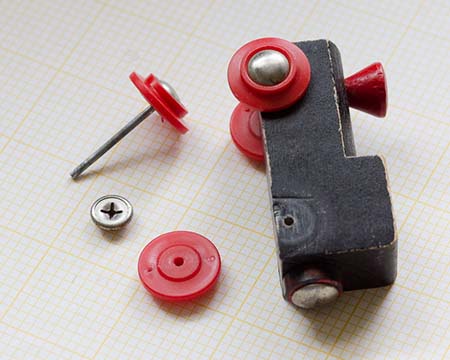 The axle is a 32mm long shaft that is 2mm in diameter. The end caps snap in to the hubs of the plastic wheels, and then push on to the shaft. The four metal tabs on the reverse side grip the shaft ends, which are scored in four spots to improve the hold.
Removing the wheels without bending the shaft, damaging the wheels, or damaging the body is a challenge. You can use gentle prying to remove one cap, but this will bend the shaft at the wheel where you insert your crowbar. Ideally, you'd pull each wheel on the axle away from the body with equal pressure, so as to not put any pressure on the body and to ensure your force was aligned along the axle, until one popped off. But, realistically speaking, the tabs on the endcaps imply that the single-axle design is intended to be an install-only procedure. Disassembly for the purposes of restoration is an "at your own risk" activity.