The Town set is one of BRIO's oldest and most venerable wooden railway accessories. First introduced in the early 1960's, the Town saw production through 1991 with only modest styling changes, giving it a roughly 30-year history.
The first known catalog appearance was around 1964, and the set originally consisted of three houses, two skyscrapers, a church and a factory. The skyscrapers were wide, and the factory was a single building with two roofs. The factory smokestack was a skinny, smooth dowel 9mm in diameter and 55mm long.
As the catalog pages from this time are all black-and-white drawings, it's not known what color the roofs were but surviving pieces from this time, and a catalog sheet excerpt from the 1970's, suggest that the houses and skyscrapers all had red roofs, the church had a green roof and red steeple, and the larger factory roof was green while the smaller roof was red. Curiously, the church and the skyscrapers were also double-sided, meaning the graphics for the windows were printed on both sides.
By the early 1970's, the Town had lost the double-sided printing, one of the skyscrapers and one of the houses, but gained six trees. These early trees differed from the tree style that would emerge in the 1980's in that they had a round, brown base.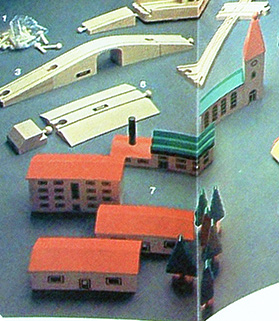 Sometime around 1980, the Town set underwent a major styling change: the skyscraper was replaced with a much narrower building, the factory was split into two pieces and lost the smaller roof, the smokestack grew to a 12mm diameter and 60mm length, the roof of the church turned red, the roof of one of the houses turned black and the trees were replaced with the newer style. Note that the smokestack was still a smooth dowel.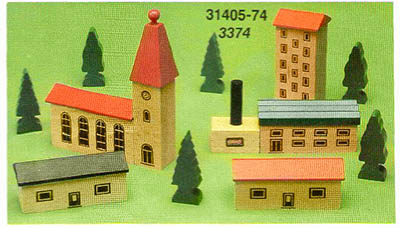 The Town most people are familiar with emerged around 1983. The styling change was minor: the smokestack was replaced with a 12x60mm wooden dowel pin with spiral fluting.
It would remain in production unchanged through 1991. This latter set is frequently seen on eBay, though missing smokestacks are not uncommon.