I received a copy of a 1982-83 catalog from writer and BRIO enthusiast Joshua McMorrow-Hernandez and will be adding it to the catalog archive, with his permission of course, in the coming days. One interesting bit of history jumped out at me in perusing it, however, and that is the origin of the City Park set, #33578. This item first appeared as a wooden railway accessory in the 1984 catalog, but it appears that it began life as an accessory to what BRIO would eventually come to call their role-playing line of toys.
My earliest catalog is from 1980, so what I know of this line is limited to that decade. The 1980-81 catalog shows these four items:
Garage #1110/31654, a large building with three overhead doors,
Garage/petrol station #1111/31656, basically the garage plus gas pumps
Parking Garage #1113/31658, a three-story garage with petrol station, numbered parking spots and adhesive stickers that children could use to customize its appearance
Farm #1122/31105, a farm house with removable roof, large play yard and a two-room animal shed.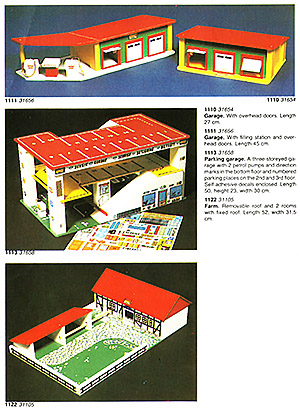 Accessories for this line would appeared in the early 1980's, debuting in the 1982-83 catalog:
Farm #1131/6-31131, a four-piece animal shed with animals
City Park #1132/4-31132, which would later become wooden railway accessory #333578
Chicken run #1133/2-31133, a two-piece chicken coop with chickens and other figures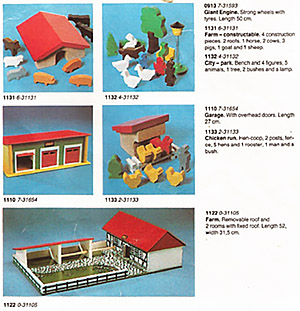 The 3-car garage set #1110/31654 would eventually be renumbered to #31109 in the new 5-digit system, and the Farm #1122/31105 would become #31122. Both products would live for several more years and were last seen in catalogs in 1989.
The accessories for the farm, the smaller four-piece farm and the chicken run, were in catalogs through 1986. What's interesting here is that these items were in the same styling and rough scale as the wooden railway system, even using the same animal and figure cut-outs, but only the City Park would go on to become an official wooden railway accessory. It would also live on an extra year, showing up in catalogs through 1987.