The below is a photo of a wooden block painted with the Testors Model Masters spray lacquer #28104 Chrysler Yellow PY3. As you can see, it is an extraordinarily close match for the various shades of yellow BRIO has used over the years. The angle of the wooden block with respect to the camera makes it look a little brighter and lighter than it really is so it is even closer in appearance in person.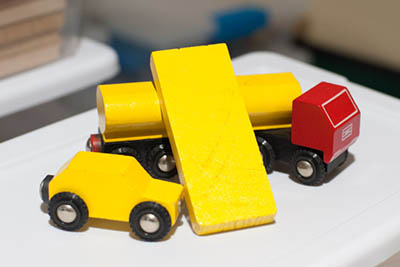 The Model Masters paint is technically a two-step process, meaning you should finish it with a clear coat after you are done. At one point Testors made numerous finishes in the Model Masters line, but now appears only to produce a high gloss top coat. Any spray lacquer clear coat should work.
In the next couple of days I'll be restoring the finish on an old gas tanker truck that has seen better days using this paint and will share the process here.
WARNING! This is a solvent-based lacquer paint that may not be appropriate for toddler toys. At the very least, the finish should cure for 30 days until it hardens completely before being handled by young children.
EDIT: According to Rust-Oleum, this paint is safe for childrens toys once it has cured.