I just finished making a layout that incorporates a large number of my newer BRIO pieces, dating from about 2007 and on, as well as a fairly large double track layout. The central theme was to create an airport around the #33306 Airplane Boarding Set and a mass transit loop with multiple stops to connect to it. Sadly, this particular set is not currently available in the U.S., but you can either buy it from an international seller or get it's larger brother, the Monorail Airport Set, from Amazon to get a plane in white and red instead of blue and white.
The runway was something I built myself. It's a 4" x 24" x 3/16" sheet of basswood which I sprayed with several coats of Rust-Oleum black lacquer paint to build up a nice surface. Once it had cured for several days, I created a plastic stencil for the runway markings and applied them with Rust-Oleum's white lacquer spray in about five or six light passes. I let that cure for several days, as well. To make the rest of the airport I simply reappropriated existing BRIO accessories. The late-90's vintage #33564 Signal House looks so much like a control tower that some people on eBay mistake it for an airport, so that was an obvious choice. For the terminal building, I chose the 90's vintage #33663 Railway Station only without the decorative window on top.
The water that forms the main lake, ponds, and the sea port is light blue cardstock that has been hot laminated for durability (this also had the side effect of making the water slightly reflective, which is a nice effect). This is something I discussed in an earlier blog post and you can see the final look in the rest of the layout photos.

View the album directy on flickr if you don't have Flash or if you're on a mobile device.
Here's the track plan (click to enlarge):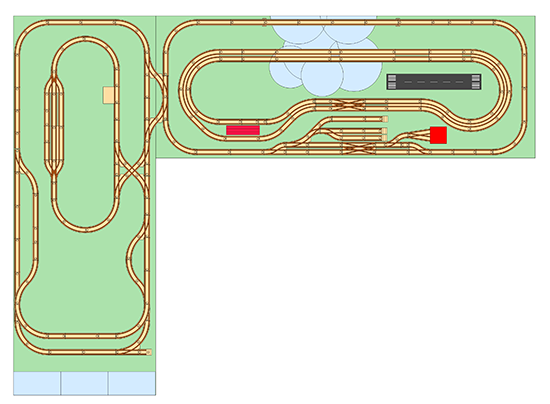 This was arranged on my two 8' x 3' laminated plywood sheets which I use as table tops. This layout does make use of two pieces of A3 track at the crossover, though that is easily changed if you don't have A3 or an equivalent straight.